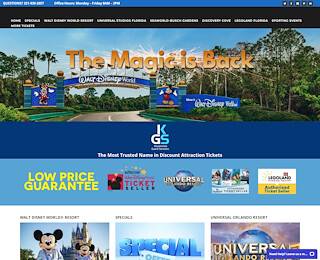 Buy the Cheapest Disney and Universal Orlando Tickets
If you're vacationing in Orlando, Florida, for sure there are two must-see attractions on your travel itinerary: Universal & Disney World in Orlando. While there are a variety of theme parks available, these two attractions pack all the magic you need for an unforgettable vacation.
When buying your Universal & Disney World theme park tickets, you will want to get the most competitive prices and the best deals to make the most of your budget. The wisest thing to do is to buy your Universal & Disney World tickets from a top authorized theme park seller. Among the different alternatives you will find, none will beat Kissimmee Guest Services (KGS). You should get to know us better, so you will know why we are your ideal alternative.
Why Choose KGS to Buy Your Disney and Universal Orlando Tickets?
Proven Experience
We have been operating in the industry since 1997. These more than 24 years in the market are an unmistakable sign of our high performance, and high levels of customer satisfaction. Throughout this period our work ethic and quality of work have earned us the trust of more than 200 property management and travel-related companies, who highly recommend us. We have become the most trusted authorized ticket distributor in Florida.
The Best Staff
At Kissimmee Guest Services we have as a fundamental objective the satisfaction of our clients so that they can have a wonderful experience and unforgettable moments. That is why we strive to assemble the most outstanding group of customer service advisors to help you save time and money on your visit to Florida. Keep in mind that our specialists do not work on commission, so don't expect them to sell you something you don't need. Each of them will strive to provide you with the best value alternatives for your Universal & Walt Disney Resort tickets, or any other location you wish to visit.
Authorized Theme Park Seller
It is common in the Florida entertainment industry to find fraudulent companies. Many seek to take advantage of visitors by selling them counterfeit, expired, or non-working tickets. Kissimmee Guest Services is an authorized distributor for each of the parks and attractions we offer to our customers. This assures you that you are purchasing your tickets from a reliable source and that you will indeed be able to enjoy the attractions you have chosen for your vacation or leisure trip.
Parks Verification
It is common that in theme parks there are modifications regarding the attractions or some conditions for your enjoyment. That is why our committed team of consultants constantly visits the different locations. The intention is to have updated knowledge and to be sure of what we offer to our distinguished clients.
Unbeatable Prices
You will not find better prices in the market than the ones we offer at Kissimmee Guest Services. Our executive team is in charge of getting the best deals with suppliers to offer the most competitive deals to our buyers. That's why you'll enjoy our Low Price Guarantee: if you find a cheapest ticket, we'll match the price or even refund the difference even if you've already used the ticket.
Trust the Experts
If you're looking for the best Universal & Disney World packages, you're in the right place. Kissimmee Guest Services is Florida's leading low-cost ticketing company, and we are ready to offer you the best prices in the market. Contact us for the best-discounted tickets.