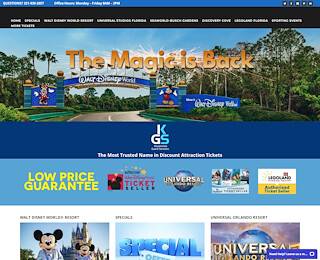 Buy the Best SeaWorld Florida Packages
The marine world has always been attractive because of its beauty and the immense variety of animal and plant species it contains. However, few can venture out to explore its wonders, as doing so is difficult. Fortunately, you and your family can immerse yourselves in this fantastic and wondrous world at SeaWorld®.
SeaWorld® is home to the world-famous killer whales and their wonderful One Ocean® show. You can also enjoy spectacular roller coasters, including the hair-raising MAKO®, the tallest, fastest, and longest roller coaster in Orlando. You can live unique experiences interacting with the animals, and even participate in the care of an injured animal, at SeaWorld Rescue™.
You also can't miss riding the mighty Manta®, and the new Infinity Falls, the world's tallest white water rapids. To get the most out of your SeaWorld® experience, it's wise to take advantage of the spectacular SeaWorld vacation packages offered by Kissimmee Guest Services (KGS).
These Are the Extraordinary SeaWorld Florida Packages from KGS
Any Day Ticket: you can enjoy a full day of fun at SeaWorld® any day of the week for only $89.99. You can also ask about our Week Day Ticket, which allows you to enter the park Monday through Friday.
All-Day Dining Add-on: this eat-free package at SeaWorld allows you to enjoy the activities and an incredible meal at our facilities. The service includes 1 entree, 1 side or 1 dessert, and 1 soft drink for every hour. This can be purchased for $124.99. Another more economical option is the Meal Voucher Add-on, which consists of 1 entree with 1 side.
Take advantage of the season until February 28, 2022, by purchasing your SeaWorld® passes at a reduced price. The Any Day Ticket will only cost you $79.99, and the All Day Dining for $114.99. You have the opportunity to purchase these special tickets through February 1, 2022.
SeaWorld® & Busch Gardens Combo Special
This is one of the best Florida vacation packages, as you can live a complete experience with nature with this combo. Take advantage of this special until February 28, 2022, entering both parks for only $105.99. You can purchase your tickets through February 1.
SeaWorld®, Busch Gardens, Aquatica Combo Tickets
This is the ultimate SeaWorld Orlando package. Forget about buying your Busch Gardens, Adventure Island, SeaWorld, and Aquatica tickets separately. You can purchase these amazing packages and combine the park visits as you wish. The Two Park Ticket allows you to enjoy two parks of your choice within 14 consecutive days for $121.99. If you want to add the All Day Dining option, you will only pay $169.99.
Alternatively, you can combine 3 parks of your choice to enjoy within 14 days with our Three Park Ticket, for which you will only pay $143.99, and if you want the All Day Dining 206.99. Finally, if you want to enjoy all the attractions of the 4 parks you can do it with our Four Park Ticket, which includes free parking in all parks for only $209.99.
Enjoy the Best of Florida with KGS
It's time to take your vacation to the next level, making the most of your budget. For that you can count on the unbeatable prices we offer at Kissimmee Guest Services (KGS), the prime authorized theme park seller of the region. Let us make your vacation a time to remember. Contact us for the best-discounted tickets.