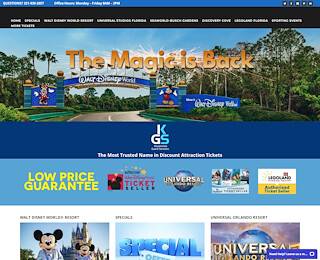 Laugh, play, and scream with some of the biggest characters in the movies, pop culture, and TV at Universal Studios. In addition to the 3 amazing theme parks, Universal Orlando offers shopping, dining, and entertainment at Universal City Walk. Universal Orlando offers numerous ticket options that range from 1 to 5 days. And in this guide, we'll take a look at the most frequently asked questions about Universal Studios tickets such as "how much are tickets to Universal Studios."
How much are tickets to Universal Studios?
The general admission ticket for Universal Orlando costs between $109-$159 per adult or $104-154 per child when you purchase Universal Orlando tickets in advance. All visitors 10 years and above are required to purchase an adult ticket. Children's rates apply to those between the age of 3 to 9, while visitors younger than the age of 3 don't need to buy tickets. Keep in mind that guests purchasing Universal Orlando tickets outside the country may have other Universal Studios ticket rates and options.
How much is a Universal Studios ticket at the gate?
Universal Orlando ticket packages and prices at the gate are at least 20 percent higher than tickets purchased online. It is always better to buy your ticket in advance to save cost. At Kissimmee Guest Services, our clients can save up to $50 per 2022 Universal Orlando ticket. All Universal theme park tickets sold at Kissimmee Guest Services are discounted and guarantee that you will save when buying your tickets in advance vs. when you purchase at the park gates.
What is the cheapest month to go to Universal Studios?
Generally, the least busy, expensive months to visit Universal Orlando are through most of January and early February. While these months are the cheapest times to go to Universal Studios, September is also a very affordable month. Universal also runs off-season vacation packages that make tickets cheaper to get. However, the most congested and expensive period to visit Universal Studios is during the holidays.
What are the ticket options available for Universal Studios?
The park offers 1-day and 2-day admission tickets. When you get the 1-day admission Universal Studios tickets, you can choose the day of your visit to get a discounted price or select anytime admission for an extra cost. With a 2-day admission ticket, you need to choose the first visit day, and you can reenter Universal Studios with a 7-day period. Keep in mind that people buying Universal Studios tickets outside the country may buy other ticket options.
How much does Universal Studios fastpasses cost? 
A Universal Studios fastpass comes in the form of an Express ticket upgrade. This ticket gives visitors one-time express access to each show, attraction, and ride but doesn't cover park admission unless you purchase a combo Universal Studios ticket that covers admission. Or, you can select a Universal Express Unlimited pass that offers unlimited express access. Also, unlike Disney World fastpasses, you are not required to choose a time before you queue. The park adds Universal Express to your ticket once, and this automatically applies to every eligible attraction, so whenever you are ready, you can enter the express queue.
Are You Ready to Plan Your Next Trip?
If you are ready to plan your next trip to Universal Studios and looking for discount tickets and the best deal, Kissimmee Guest Services got you covered. Contact us today for more details.