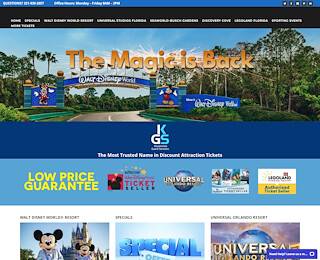 Get the Cheapest Fun Spot Tickets
When vacationing in Florida, you're always looking for options that allow the whole family to have fun. Finding an affordable place that allows children and adults to have fun all day long with a variety of options and activities is always a vacation winner.
In that sense, one of the most complete amusement parks you will find in Florida is Fun Spot America. You should know more about our two parks in the state, Fun Spot Orlando and Fun Spot Kissimmee, and learn about the incredible deal we have for you at Kissimmee Guests Service (KGS) for you to enjoy.
Fun Spot America Has It All for the Family
This is a theme park designed to provide entertainment for the whole family. From incredible thrill rides to beautiful recreational areas, Fun Spot has it all. You will find different alternatives to have fun, among which stand out the only wooden roller coasters in Central Florida: the White Lightning in Orlando and the new Mine Blower in Kissimmee, the only wooden roller coaster with a 360° turn in Florida.
Where and When to Enjoy Fun Spot America
For your convenience and enjoyment, they have two locations in Florida. On one hand, there is Fun Spot Orlando, located on Fun Spot Way, and you can also visit Fun Spot Kissimmee, which is near Celebration and Disney. Both locations operate year-round, from 2:00 pm to midnight.
What Will You Find at Fun Spot America?
They have a variety of attractions and activities for your enjoyment. Here are some of the incredible options you'll have:
300ft SkyCoaster (Kissimmee)
250ft SkyCoaster (Orlando)
Gator Spot (Orlando)
Coasters
Thrill Rides
Go-Karts
Family Rides
Kiddie Rides
Arcade & Midway games
Splash Pad
Besides, they have a variety of delicious options to eat and enjoy. You can choose from their delicious burgers, funnel cakes, fried Oreos, or select a lighter option such as salads or shakes. All prepared with the highest quality for your delight.
Get Unlimited Joy with the Best Fun Spot America Tickets
To enjoy all that Fun Spot has to offer, you must purchase a Fun Spot America single-day pass. This bracelet will allow you unlimited use of any of the attractions for an entire day. Also, you will enjoy free parking while you are enjoying the park. The bracelet is valid for one day only at one of the locations. As the best provider of discount tickets for Fun Spot America, Kissimmee Guest Services (KGS) offers it to you for only $49.99.
All Aboard
Maybe one of the members of your traveling group may not want to ride the attractions, or it may be a senior person. You'll say "but I have to pay a ticket for a person who won't use the rides?" That's the great thing about Fun Spot America because they don't leave anyone out. People who don't want to ride the rides can enter the parks completely free. They can still enjoy the other recreational areas including the Splash Pad and the Gator Spot.
Buy the Best Fun Spot Tickets
If you're looking for the cheapest Fun Spot Kissimmee or Fun Spot Orlando tickets, you're in the right place. Kissimmee Guest Services (KGS) is the leading authorized theme park seller, and we offer the lowest-priced tickets for your enjoyment. Take advantage of our Lowest Price Guarantee and get the most competitive price in the market. Contact us for the best-discounted tickets.